Providing strategic and continuous investment in technological innovations and optimized solutions, Prostar Solar is freed from "red-ocean" competition and is able to establish differentiated advantages in the "blue ocean." We are dedicated to seeking innovation-driven reliability and cost-performance improvement to ensure that Prostar Solar customers worldwide enjoy industry-leading returns and benefits.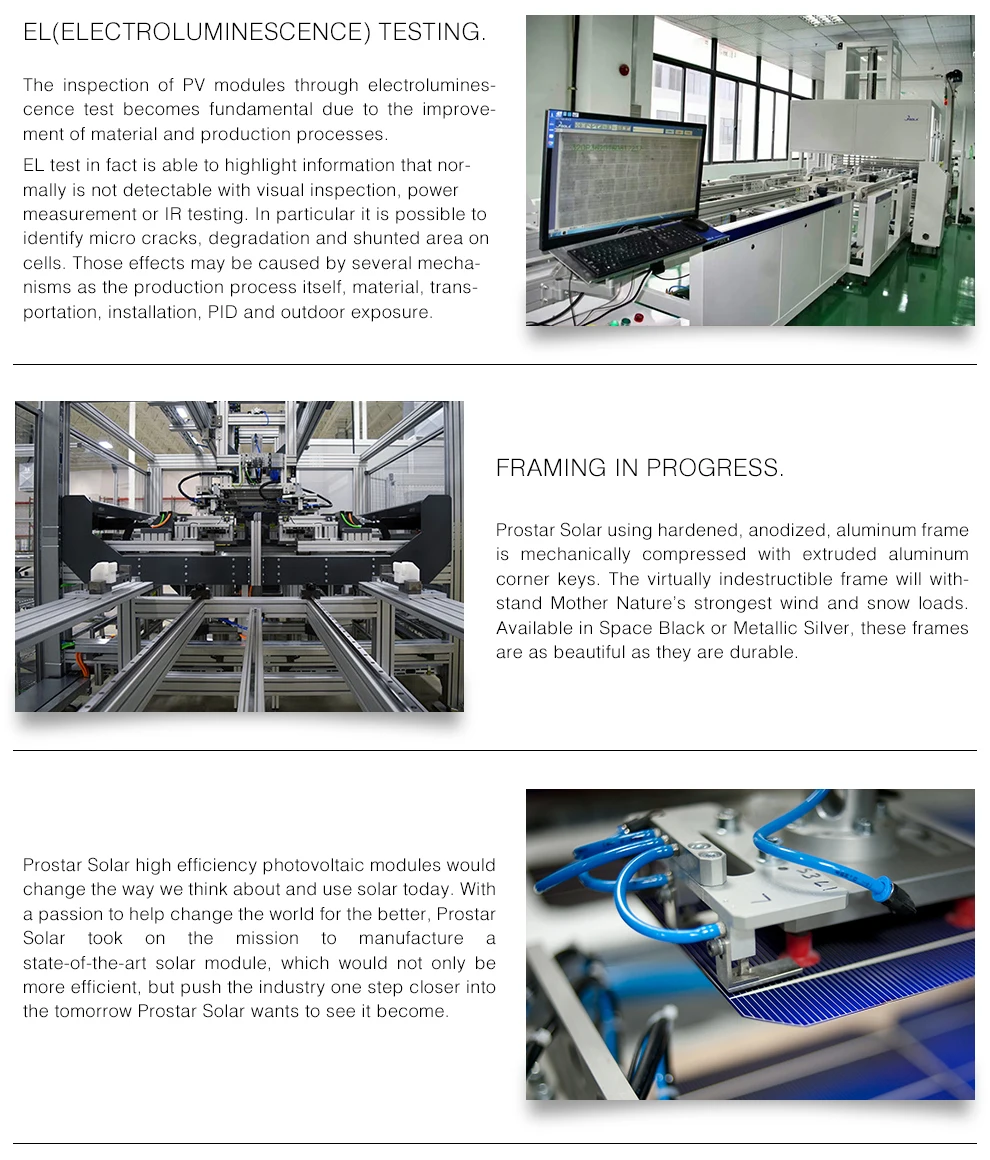 State-of-the-art Innovative Technologies
As one of the pioneer solar module suppliers, Prostar Solar has developed state-of-the-art technologies and launched innovative new products in the market, including the AC Solar Module, Anti-Glare Module, Smart Module, Cell Optimizer Module, Anti-Salt Module, MPPT, and PID Free.
- AC Solar Module: increases power yield up to 25%, greatly simplifies installation, and reduces installation cost. Its 24/7 web-based monitoring greatly enhances the product's reliability and safety
- Anti-Glare Solar Module: remarkably reduces light reflections and successfully supports multiple-MW solar power
- Smart Module: enables each solar module component to independently monitoried for voltage current and temperature 24/7, allowing fast location and shutdown of module components
- Cell Optimizer Module: cell-string level MPPT technology increases power output, eliminates the effects of module mismatch and hot-spot failures, and extends PV module lifetime
Horizontally Integrated Smart Energy Solutions
In contract to traditional power plant construction, where different service providers separately take partial responsibility for project construction, Prostar Solar provides horizontal integration of the entire process of solar project construction and provides true one-stop smart energy solutions from project development and project financing to EPC and O&M services.
The Prostar Solar horizontally integrated smart solutions eliminate the mismatching that always occurs while service is done separately by different providers. Smart solutions mitigate system risks by consistently engineering, constructing, controlling, and managing a system from the very beginning stages to the end of its lifecycle. Smart solutions enable remarkable synergy from efficient and effective process integration, maximizing power output and increasing system availability.
Modularized Solar Block Systems Enable Fast Deployment and Cost Savings
For ordinary commercial, industrial, and utility-scale applications, Prostar Solar has creatively developed standardized solutions as modularized block systems that can be delivered quickly in the most cost-effective way, since system design and engineering are well calculated, all PV components are optimally chosen, electric parts are most efficiently connected, and construction and maintenance services are economically standardized to ensure reliability and the best system performance ratio.
Globally Centralized O&M Service
Advanced information technology and big data have helped Prostar Solar establish a globally centralized O&M operations center, we are optimistic that we will have a global O&M service portfolio of 1,000MW before the end of 2017.