Prostar GPC30-12 high energy density lead carbon 12v 30ah battery for ups is built with premium sealed lead-acid chemistry and added carbon components to the negative electrodes.
Prostar sealed rechargable lead carbon 12v 30ah battery provides not only high energy density, but also high power, rapid charge and discharge, longer cycle life. It is suitable for solar and wind renewable energy, etc.
Prostar lead-carbon batteries use functional activated carbon and graphene as carbon materials, which are added to the negative plate of the battery to make lead carbon batteries have the advantages of both lead-acid batteries and super capacitors. It not only improves the ability of rapid charge and discharge, but also greatly prolongs the battery life. It is more suitable for the application of PSOC.
Lead-Carbon batteries are different from other types of batteries because they combine the high energy density of a battery and the high specific power of a super-capacitor in a single lower-cost device (also known as Pb-C).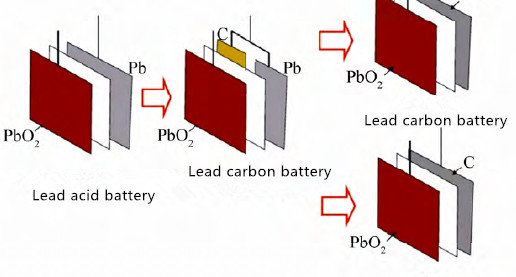 Lead Carbon 12V 30AH Battery BENEFITS
Excellent PSoC cyclic performance
High charging efficiency (95%) – less wasted energy.
Excellent charge acceptance – faster charging
Reduced sulphation – more capacity for longer
Low maintenance and no watering – low cost of running
Sealed VRLA construction – almost zero gassing
High reliability & predictable performance
Fuel savings when used with hybrid genset applications
Drop in replacement – no special charging or management required
Wide temperature tolerance (-30°C to +60°C)
Lead Carbon 12V 30AH Battery Application
Off-Grid Cabins, Homes & Grid-Tie Battery Back-up
Energy storage system
Recreational, Electric & Hybrid Vehicles
Marine Battery Replacement
TECHNICAL SPECIFICATIONS
Nominal Voltage
12V (6 cells per unit)
Design Floating Life @25℃
20 Years
Nominal Capacity @25℃(20 hour rate@1.50A,10.50V)
30.0Ah
Capacity @25℃
10-hour rate (2.78A,10.8V)
27.8Ah
 5-hour rate (5.20A,10.5V)
26.0Ah
 1-hour rate (18.0A,9.60V)
18.0Ah
Internal Resistance
Full Charged Battery@25℃
≤11.0mΩ
Ambient Temperature
Discharge
-30℃~60℃
Charge
-30℃~60℃
Storage
-30℃~60℃
Max. Discharge Current@25℃
300A(5s)
Capacity affected by Temperature 

(10 hr. Capacity)

40℃
108%
25℃
100%
0℃
90%
-15℃
70%
Self-Discharge@25℃ per Month
3%
Charge (Constant Voltage) @25℃
Standby Use
Initial Charging Current Less than 9.0A

Voltage 13.6-13.8V

Cycle Use
Initial Charging Current Less than 9.0A

Voltage 14.4-14.7V
DIMENSIONS & WEIGHT
Length(mm)                             196±1
Width(mm)                              130±1
Height(mm)                             155±1
Total Height(mm)                 167±1
Weight(kg)                               10.2±3%
BATTERY DISCHARGE TABLE
Discharge Constant Current per Cell (Amperes at 25°C)
| | | | | | | | | | | | | | | | | | | | | | |
| --- | --- | --- | --- | --- | --- | --- | --- | --- | --- | --- | --- | --- | --- | --- | --- | --- | --- | --- | --- | --- | --- |
| F.V/Time | 5min | 10min | 15min | 20min | 25min | 30min | 35min | 40min | 45min | 60min | 90min | 2h | 3h | 4h | 5h | 6h | 7h | 8h | 10h | 12h | 20h |
| 1.60V | 81.6 | 52.0 | 44.2 | 36.0 | 31.7 | 28.3 | 24.9 | 22.7 | 20.7 | 18.0 | 14.6 | 11.5 | 8.1 | 6.6 | 5.5 | 4.6 | 4.0 | 3.6 | 3.06 | 2.57 | 1.59 |
| 1.65V | 80.1 | 51.1 | 43.4 | 35.4 | 31.2 | 27.7 | 24.5 | 22.2 | 20.4 | 17.7 | 14.3 | 11.2 | 7.9 | 6.5 | 5.4 | 4.5 | 4.0 | 3.5 | 3.00 | 2.52 | 1.56 |
| 1.67V | 79.3 | 50.6 | 42.9 | 34.8 | 30.9 | 27.5 | 24.3 | 22.1 | 20.3 | 17.5 | 14.2 | 11.1 | 7.8 | 6.4 | 5.3 | 4.4 | 3.9 | 3.5 | 2.97 | 2.51 | 1.55 |
| 1.70V | 77.7 | 49.6 | 42.1 | 34.2 | 30.3 | 27.0 | 23.9 | 21.8 | 19.9 | 17.2 | 13.9 | 11.0 | 7.8 | 6.3 | 5.3 | 4.4 | 3.9 | 3.5 | 2.91 | 2.46 | 1.53 |
| 1.75V | 77.1 | 49.1 | 41.8 | 33.8 | 29.9 | 26.7 | 23.6 | 21.5 | 19.6 | 17.0 | 13.8 | 10.8 | 7.6 | 6.2 | 5.2 | 4.3 | 3.8 | 3.4 | 2.88 | 2.42 | 1.50 |
| 1.80V | 74.7 | 47.6 | 40.3 | 33.0 | 29.0 | 25.9 | 22.9 | 20.8 | 19.1 | 16.5 | 13.3 | 10.4 | 7.3 | 5.9 | 5.0 | 4.2 | 3.7 | 3.3 | 2.78 | 2.34 | 1.46 |
| 1.85V | 70.2 | 44.8 | 38.0 | 31.0 | 27.2 | 24.3 | 21.5 | 19.6 | 17.9 | 15.5 | 12.5 | 9.8 | 6.9 | 5.6 | 4.7 | 4.0 | 3.5 | 3.1 | 2.61 | 2.20 | 1.32 |
Discharge Constant Power per Cell (Watts at 25°C)
| | | | | | | | | | | | | | | | | | | | | | |
| --- | --- | --- | --- | --- | --- | --- | --- | --- | --- | --- | --- | --- | --- | --- | --- | --- | --- | --- | --- | --- | --- |
| F.V/Time | 5min | 10min | 15min | 20min | 25min | 30min | 35min | 40min | 45min | 60min | 90min | 2h | 3h | 4h | 5h | 6h | 7h | 8h | 10h | 12h | 20h |
| 1.60V | 152.9 | 98.1 | 83.3 | 68.2 | 60.4 | 54.0 | 47.7 | 43.4 | 39.8 | 34.6 | 27.9 | 22.0 | 15.5 | 12.6 | 10.5 | 8.8 | 7.7 | 6.9 | 5.8 | 5.0 | 3.09 |
| 1.65V | 150.7 | 96.6 | 82.3 | 67.4 | 59.5 | 53.2 | 46.8 | 42.6 | 39.2 | 34.0 | 27.4 | 21.6 | 15.2 | 12.4 | 10.3 | 8.6 | 7.6 | 6.8 | 5.8 | 4.9 | 3.06 |
| 1.67V | 149.6 | 95.8 | 81.5 | 66.7 | 59.1 | 52.7 | 46.6 | 42.4 | 38.9 | 33.7 | 27.2 | 21.4 | 15.1 | 12.3 | 10.2 | 8.6 | 7.6 | 6.8 | 5.7 | 4.8 | 3.05 |
| 1.70V | 148.2 | 94.4 | 80.2 | 65.4 | 58.0 | 51.7 | 45.9 | 41.7 | 38.4 | 33.0 | 26.7 | 21.2 | 14.9 | 12.2 | 10.1 | 8.5 | 7.5 | 6.7 | 5.6 | 4.7 | 3.03 |
| 1.75V | 147.4 | 93.6 | 79.7 | 64.6 | 57.2 | 51.2 | 45.3 | 41.3 | 37.7 | 32.7 | 26.4 | 20.8 | 14.6 | 12.0 | 9.9 | 8.4 | 7.4 | 6.6 | 5.5 | 4.7 | 2.97 |
| 1.80V | 143.1 | 91.0 | 77.3 | 63.4 | 55.7 | 49.6 | 44.0 | 40.1 | 36.6 | 31.7 | 25.6 | 20.0 | 14.1 | 11.4 | 9.6 | 8.1 | 7.0 | 6.3 | 5.4 | 4.5 | 2.88 |
| 1.85V | 134.9 | 86.5 | 73.3 | 60.0 | 52.7 | 47.1 | 41.7 | 38.0 | 34.8 | 30.1 | 24.3 | 19.1 | 13.4 | 10.9 | 9.1 | 7.7 | 6.8 | 6.0 | 5.1 | 4.3 | 2.62 |
The Articles You may Like