Prostar GM600-2 rechargeable sealed 600ah agm battery is made of individual cells each providing 2 Volt. By combining multiple cells, batteries of nearly every voltage and capacity can be made. Depending on the capacity of the cell, one, two or four connection points for the positive and negative connections are available. Due to the flexible design, the final shape of the battery can be adapted to the space available. The cells can be placed in any direction, creating a system with all connections on the front so it enables easy checking of individual cell voltages and the torque of the connections.
2v battery cells from the world's leading manufacturers independently sourced, giving you the customer the advantage of knowing that you are being offered the correct battery for your application. At Pb Batteries we pride ourselves on making sure we help you identify your current battery or requirement and supply you with the correct product.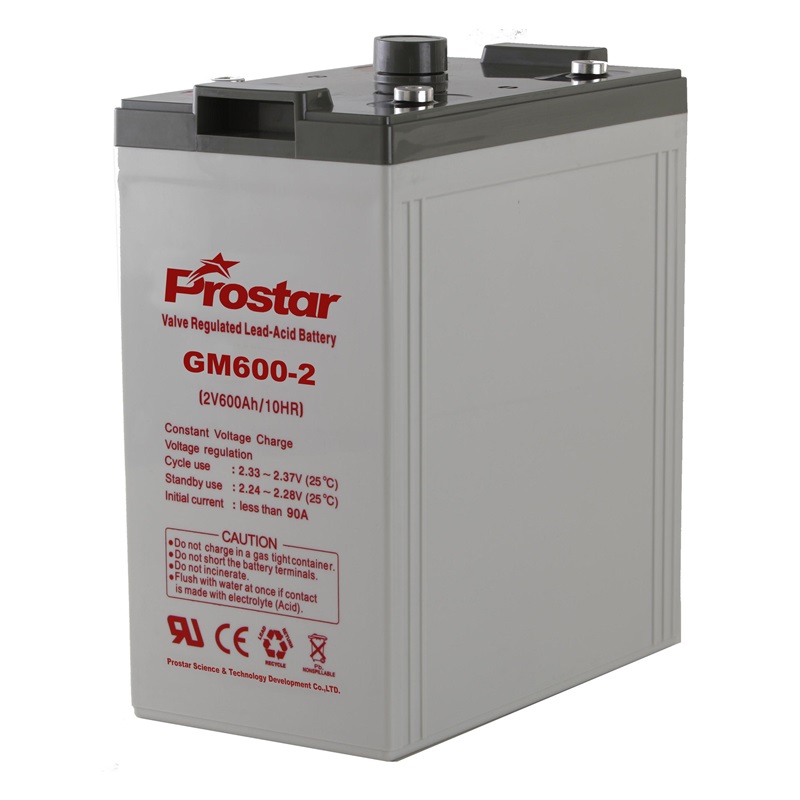 AGM (Absorbed Glass Mat) sealed battery technology was originally invented in 1980, and developed and introduced in 1985 for military aircraft where power, weight, safety, and reliability were paramount considerations. The Concorde AGM batteries are VRSLAB (Valve Regulated Sealed Lead-Acid Battery), sometimes referred to as VRLA (Valve Regulated Lead-Acid).
Prostar GM600-2 rechargeable sealed 600ah agm battery has a lifespan of between three and five years, based this calculation on several factors including the number of loading/unloading cycles and environmental factors.
Battery Structure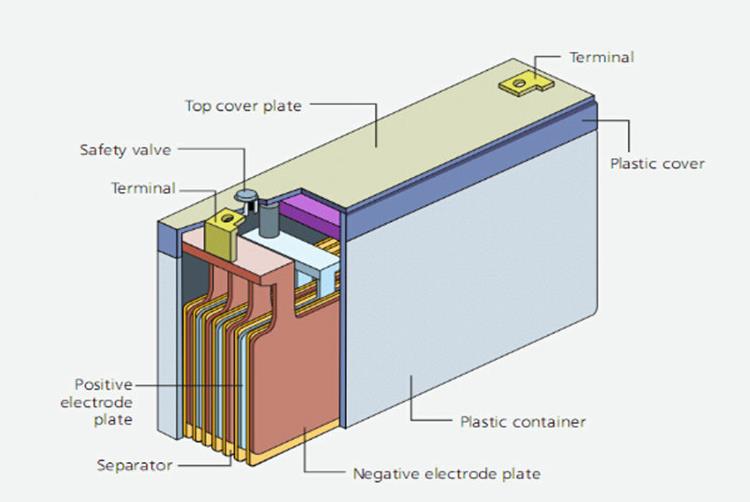 Battery Construction
Positive Plate
Flat plate with lead dioxide
Negative Plate
Flat plate with lead
Technology
Absorbent glass mat (AGM)
Separator
Fiberglass
Electrolyte
Sulfuric acid
Container
ABS
Safety Valve
Self resealing, pressure regulated and explosion proof
Terminals
Copper
Operating Temperature
Nominal Operating Temperature : 25℃(77℉)
Discharge : -20℃ ~ 50℃ (-4℉~122℉)
Charge: 0℃ ~ 40℃ (32℉~104℉)
Storage: -20℃ ~ 40℃ (-4℉~104℉)
Float Voltage
2.23 – 2.27 V/cell
Equalize Voltage
2.33 – 2.37 V/cell
Mounting Orientation
Horizontal only
Intercell Connectors
Lead plated copper bars
Self Discharge
Less than 10% after 90 days, can be stored up to 6 months at 25℃ (77℉);
Fully recharging is required before usage, and charged sooner if stored at higher temperature than 25℃ (77℉).
Design Life
Up to 15 Years in Standby Service at 25℃
Eurobat (20℃) : 12 years and longer, Long Life
Battery Terminal

2 Volt Battery Applications
ELECTRICAL AND ELECTRONIC EQUIPMENT AUTONOMY:
Security and Alarm Systems
Industrial Control and Automation Systems
Train embedded Systems
Remote telemetry Systems
Power for auxiliary equipment in: Motorhomes, Caravans, Boats, Camping, etc.
Gas, smoke and fumes detectors
UNINTERRUPTED SYSTEMS IN GENERAL:
UPS – Uninterruptible Power Supplies
Public Telecommunications Central Exchange
Private PABX
Network data transmission – Telephone networks, Cable TV networks, Internet and Intranet
Data Centers
Call Centers
Central Power in large buildings – Hospitals, Hotels, places of public assistance, etc.
Tolls and Automatic Barriers for vehicles control
Ticketing
Some advices to maximize batteries lifetime:
Make sure to keep the batteries in a cool, dry and well ventilated location. Ideally, the temperature of the site should not exceed 24 degrees Celsius. For good ventilation, there must be a space between batteries to ensure adequate air circulation.
Do not store batteries for long periods of time. New batteries can be stored for 6 to 12 months. After this period, the battery should be used or a large percentage of their carrying capacity will be lost. It is not recommended to storage batteries that have already been used.
When using batteries in a UPS, does not exceed 80% of its rated capacity due to decreased autonomy – when the load increases, the autonomy decreases. In case of power failure, a UPS with a load equivalent to full capacity consumes and discharges the batteries quickly, reducing its lifespan.
 Learn more about this product? 
 Call +86 13827733783 or request a quote. 
Other Services
The Articles You may Like